Antiques on the Farmington, located in Collinsville, Connecticut was home to this beautiful Victorian frame still life. Looking for good quality antique frames is always a highlight for me when I go antiquing with my wife, Jennifer. Finding old carved frames is rare to find in a typical shop, but there are usually many 19th and 20th century frames to be seen. Loss of compo ornamentation is a typical problem in frames from this period.
Victorian Frame Still Life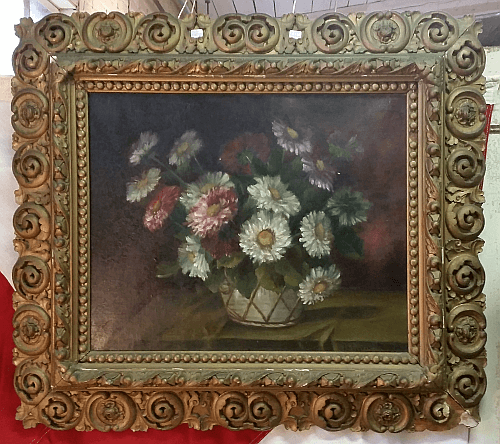 I believe the finish is original; however, it needs a serious cleaning. Notice the closed corners – the compo ornamentation lines up nicely, with intent and symmetry. Also, the compo is in relatively good condition, with only a few losses here and there. (…look for the white spots where the compo has flaked off.)
A notable design feature is the beaded sight edge. I am not sure what design is on the top edge, and I have found no reference to it in my many frame books.
In conclusion, this is a unique old frame. During my many years of frame hunting throughout Connecticut's many antique shops, I have never come across a frame designed like this one.
You can see another frame that we found in the same shop here.