Antiques on the Farmington in Collinsville, Connecticut had this fairly large Transitional Louis XV/Louis XVI Rococo frame reproduction. First of all this frame does not appear to be old, but it has the look and feel of the Rococo period. The Rococo "transitional" period lasted from c.1760 to c.1770, for those interested in knowing when in history you might have seen an original transition frame similar to this one.
Rococo Frame Reproduction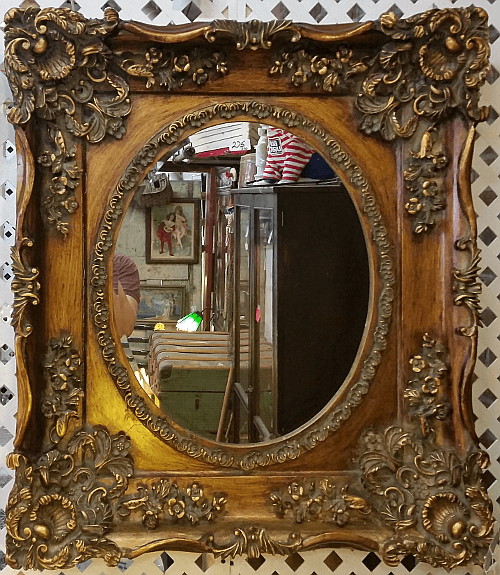 The most noteworthy Rococo-style features on this reproduction are the oval sight, elaborate corner foliate cartouches and swept sides and back. A nice contrast between the antiqued gold ornamentation and the faux wood finish on the inner portions of the frame are visible. In my experience however, I have not come across an authentic frame like this with different gold and wood areas.
On the subject of reproduction frames, I have found there are two kinds. The first kind will have features that can be linked directly back to the time-period in question. The second kind I would not call true reproductions. Some frame makers will take design elements from many periods and mash then together in such a way that you can't tie it back to any specific historical period. For example, they might have Baroque Louis XIII features mixed with Neoclassical Louis XVI features. Now I don't mean to imply that the latter can't look good in their own right. I'm just saying there are true reproductions and "other" frames with old design elements incorporated into their designs. I believe this frame falls under the true reproduction kind.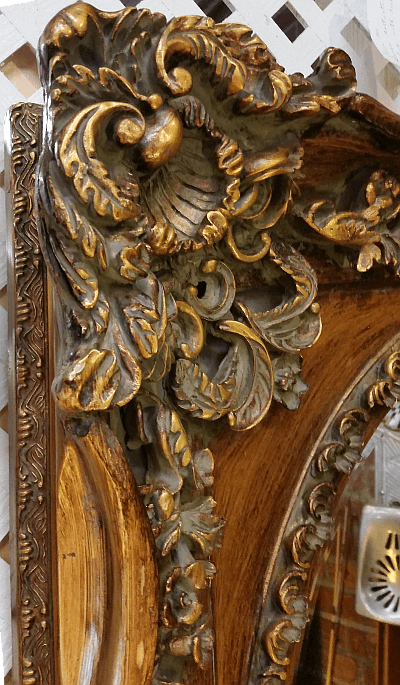 In conclusion, I like this Transitional Louis XV/Louis XVI Rococo frame reproduction despite it being newer. A formal oil portrait would go nicely with this style of frame, with the mirror removed. (We also found a Neoclassical Louis XVI or Neoclassical Empire Frame.)