Jennifer and I went antiquing today at The Collinsville Antiques Company of New Haven and Antiques on the Farmington, both located in Collinsville, Connecticut. First, I always look for suitable quality antique frames whenever we go antiquing. On this day, we came across two noteworthy frames. One of the frames was a nice Neoclassical Louis XVI, or Neoclassical Empire Frame mounted to a 19th-century oil painting on canvas. The second frame was a Transitional Louis XV/Louis XVI Rococo Frame Reproduction. In this post, I will discuss the Neoclassical frame.
Neoclassical Frame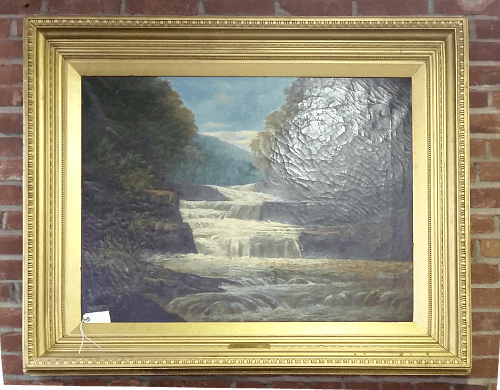 Some of this frame's notable Neoclassical design elements include the bead pattern, double-bead and reel pattern, plain cove, and the, most important, egg and dart pattern at the top edge. Also, the outer edge has a rais-de-Coeur design all around. (As seen in the last image at the bottom.)
Picture frame molding is often pre-fabricated in lengths up to 8 feet long that are measured, cut to the proper size, and joined at the corners. One telltale sign of this type of frame construction is mismatched design patterns and a visible corner seam, and these identifying features are also known as "open corners."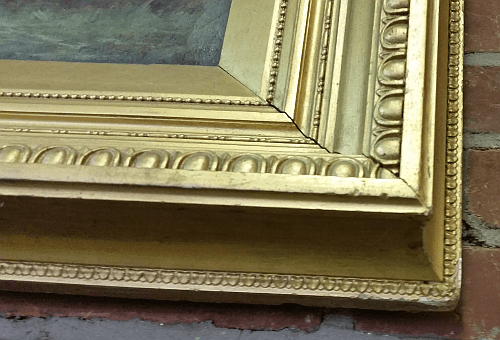 Overall, this Neoclassical Louis XVI or Neoclassical Empire Frame is in excellent condition and has no significant losses to the compo ornamentation. The finish is original and consistent throughout, with no overpainting or touchups. There are some minor stains along the bottom rail. Also, check out the Transitional Louis XV/Louis XVI Rococo Frame Reproduction from the same shop.